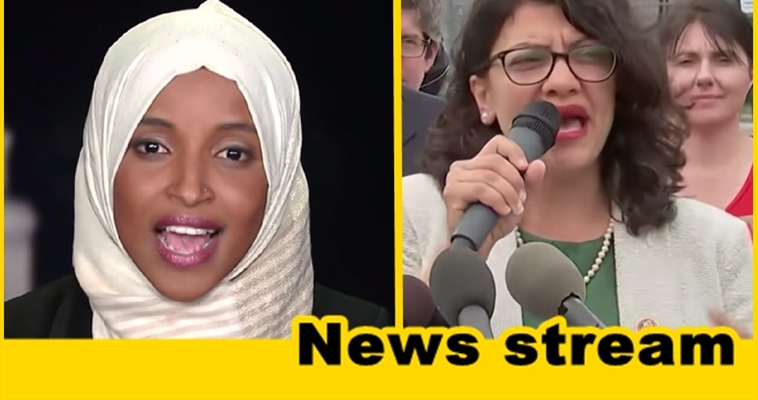 Prime Minister of Israel Benjamin Netanyahu took to Twitter to explain why Omar and Tlaib were banned.
Among the shocking revelations, the two lawmakers listed their destination as "Palestine" and not "Israel"
Netanyahu came to the conclusion that the sole purpose of their visit was to strengthen a boycott against Israel's existence.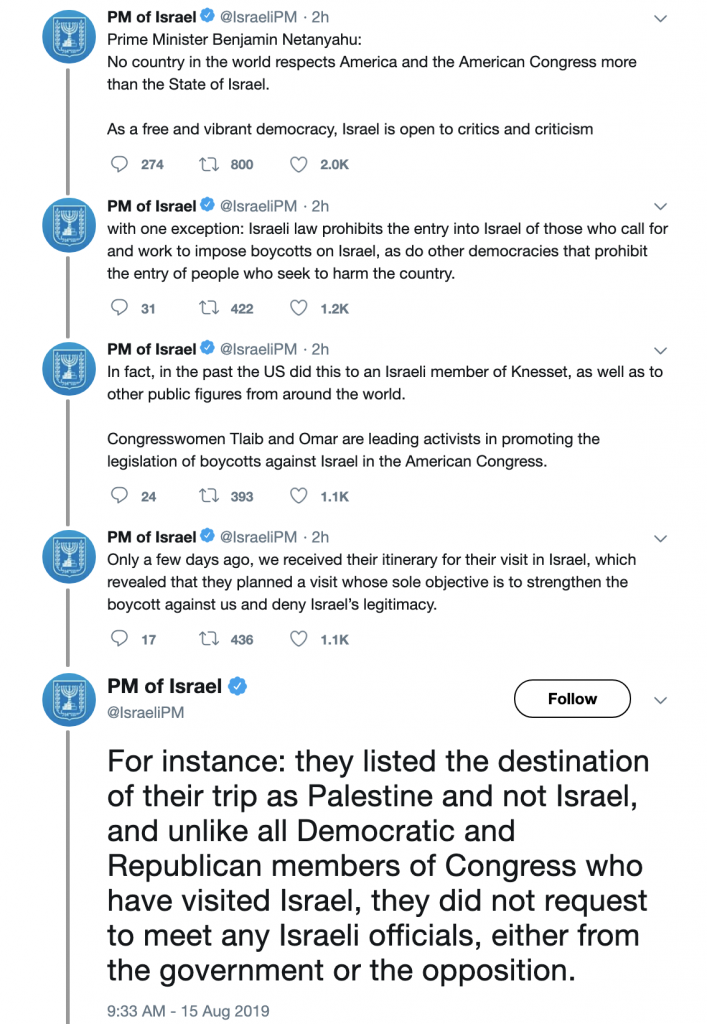 Prime Minister Benjamin Netanyahu: No country in the world respects America and the American Congress more than the State of Israel. As a free and vibrant democracy, Israel is open to critics and criticism
with one exception: Israeli law prohibits the entry into Israel of those who call for and work to impose boycotts on Israel, as do other democracies that prohibit the entry of people who seek to harm the country.
In fact, in the past the US did this to an Israeli member of Knesset, as well as to other public figures from around the world. Congresswomen Tlaib and Omar are leading activists in promoting the legislation of boycotts against Israel in the American Congress.
Only a few days ago, we received their itinerary for their visit in Israel, which revealed that they planned a visit whose sole objective is to strengthen the boycott against us and deny Israel's legitimacy.
For instance: they listed the destination of their trip as Palestine and not Israel, and unlike all Democratic and Republican members of Congress who have visited Israel, they did not request to meet any Israeli officials, either from the government or the opposition.
A week ago, Israel warmly welcomed some 70 Democratic and Republican members of Congress, who expressed broad bipartisan support for Israel, which was also demonstrated a month ago in a resounding bipartisan vote against BDS in Congress.
However, the itinerary of the two Congresswomen reveals that the sole purpose of their visit is to harm Israel and increase incitement against it.
In addition, the organization that is funding their trip is Miftah, which is an avid supporter of BDS, and among whose members are those who have expressed support for terrorism against Israel.
Therefore, the minister of interior has decided not to allow their visit, and I, as prime minister, support his decision.
Nonetheless, if Congresswoman Tlaib submits a humanitarian request to visit her relatives, the minister of interior has announced that he will consider her request on the condition that she pledges not to act to promote boycotts against Israel during her visit.
Trump supporters applauded the explanation.
Thank you for standing firm. Omar and Tlaib do not deserve to 'visit' Israel…for their nefarious reasons.

As an American, these women do not represent me, they disgust me.

I stand with Israel

— CC (@ChatByCC) August 15, 2019
https://twitter.com/JK2435/status/1162062518912765952
This article was written by the staff of TheConservativeOpinion.com 
By Kambree Nelson
Source: theconservativeopinion
See more here: news365.stream
loading...
If you like what we are doing to inform you, you can support us here:
Thank you very much and God bless you and your family!