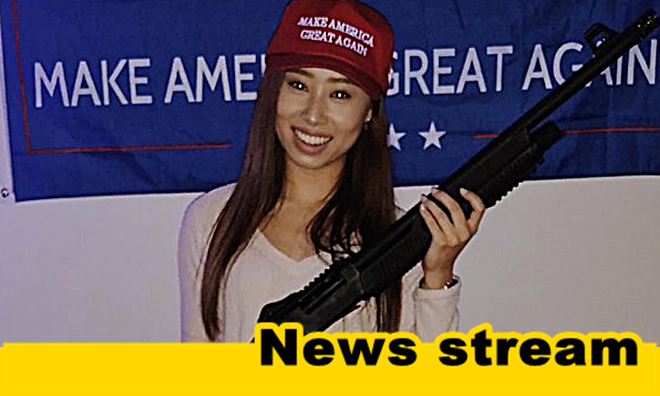 The Miss World organization has stripped Kathy Zhu of her "Miss Michigan" title for "insensitive" tweets.
Zhu, a Trump supporter, also refused to wear a hijab due to her political beliefs.
@MissWorldLtd Kathy stood up for herself as a woman when someone tried forcing her to wear an hijab, thousands of women are either oppressed by that article of clothing or stoned for not putting it on. Kathy advocated for less violence in the black community and has real data to https://twitter.com/jackposobiec/status/1152056830752935936 …

Jack Posobiec 

✔@JackPosobiec

BREAKING: The @MissWorldLtd competition has stripped Trump supporter @PoliticalKathy of her title as Miss Michigan
386 people are talking about this
Zhu is now firing back on Twitter and telling her side of the story.
https://twitter.com/i/status/1152302800073887745
Zhu has also published the exchanged she had with the Miss World organization that led to her dismissal.
Miss World America's State/National/Chief Director accused me of being racist, Islamaphobic, and insensitive.

They stripped me of my Miss Michigan title due to my refusal to try on a hijab in 2018, my tweet about black on black gun violence, and "insensitive" statistical tweets.
15.5K people are talking about this

These are the text message exchanges between the state director and me.
3,559 people are talking about this
Didn't know Asian Americans could be white nationalists! https://twitter.com/peltzmadeline/status/1152310889489620992 …

Madeline Peltz

@peltzmadeline

Miss Michigan of the Miss World America pageant was stripped of her title for blatantly racist social media posts. The Daily Caller, historic home of DC's predominant white nationalist political reporters, is defending her
4,505 people are talking about this
The story has now been also covered on Fox News.
The Miss World America Organization strips conservative activist Kathy Zhu of her Miss Michigan title for refusing to Wear Hijab and "insensitive" social media posts. pic.twitter.com/mxNRH5MeVu

— Fox & Friends First (@FoxFriendsFirst) July 19, 2019
Source: theconservativeopinion
See more here: news365.stream