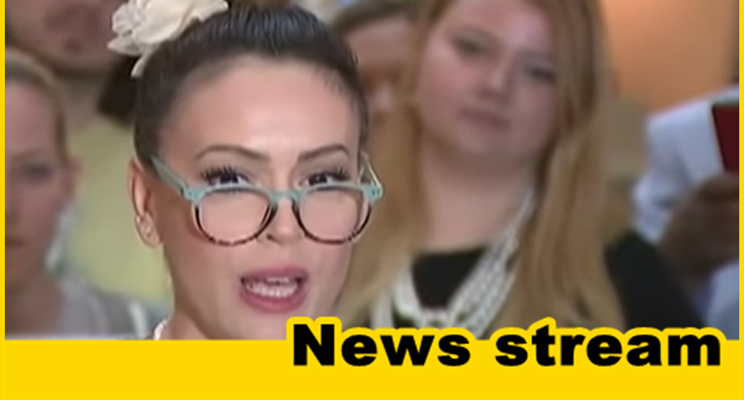 Anti-Trump actress and activist Alyssa Milano has revealed she had two abortions within a year in her early 20s.
Milano credits the abortions for saving her career "I would not have my career. I would not have the ability or platform I use to fight against oppression with all my heart. … I would never had been free to be myself – and that's what this fight is all about: freedom."
From USAToday
Actress Alyssa Milano is opening up about her personal experience with abortion in protest of restrictive laws that she called "an assault against women's bodies."
Milano, 46, revealed that she had two abortions in her early 20s on the latest episode of her podcast "Sorry Not Sorry," where she discusses social, political and cultural issues.
"In 1993, I had two abortions," the activist shared Sunday. "I was in love for the first time, in the breathless way you can only be in love when you are young. It was huge. … It filled every part of living. It was a joyful and exciting and powerful time in my life."
The actress didn't reveal the identify of her significant other, but it's worth noting that Milano was briefly engaged to her "Double Dragon" co-star Scott Wolf in 1993.
This week on @SorryNotSorry I share my personal abortion story. #SorryNotSorry https://t.co/3oJJR2Onpm

— Alyssa Milano (@Alyssa_Milano) August 19, 2019
Milano said she was taking birth control at the time because she was focusing on her career and "not ready to be a parent." But, she said, "I still got pregnant."
"It was devastating. I was raised Catholic and was suddenly put in conflict with my faith. … I had a career and a future and potential. And also, I suffered from sometimes crippling anxiety," she said, adding that she took Accutane, a controversial acne medicine linked to birth defects in pregnancies.
The "Charmed" alum said she made a difficult decision to terminate her pregnancy because she "wasn't equipped to be a mother." She said, "I chose to have an abortion."
"I chose. It was my choice. And it was absolutely the right choice for me," she said. "It was not an easy choice. It was not something I wanted but it was something I needed – like most health care is."
After the procedure, Milano said she found out a few months later that she was pregnant again. And "once again I made the right decision to end the pregnancy," she said.
Milano said the reality of anti-abortion legislation has forced her to reflect on how different her life would've been if she hadn't had access to safe and legal abortions.
"I would not have my children – my beautiful, perfect, loving, kind and inquisitive children – who have a mother who was so very, very ready for them," Milano said about her son Milo, 7, and daughter Elizabella, 4, with husband David Bugliari.
She continued: "I would not have my career. I would not have the ability or platform I use to fight against oppression with all my heart. … I would never had been free to be myself – and that's what this fight is all about: freedom."
This article was written by the staff of TheConservativeOpinion.com 
By Jon Heltzel
Source: theconservativeopinion
See more here: news365.stream