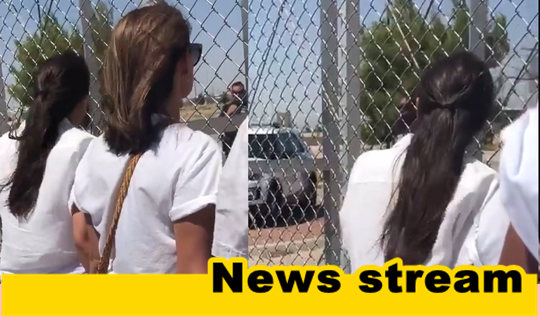 New video evidence shows the viral photos taken of Rep. Alexandria Ocasio-Cortez crying in front of a fence were actually taken at a near EMPTY parking lot, not an active detention center filled wiht detainees.
I'll never forget this, because it was the moment I saw with my own eyes that the America I love was becoming a nation that steals refugee children from their parents,& caged them.

More kids died after this. To date, no one has been held accountable.

We need to save these kids. https://twitter.com/i_p_a_1/status/1143361683710193665 …

Ivan Pierre Aguirre

@i_p_a_1

Before @AOC hit the national stage & was just a fairly unknown House candidate frm NYC,she took time awy frm her campaign & came dwn to #Tornillo to protest the #tentcity housing migrant children.I made these previously unpublished fotos a yr ago today. #elpaso #aoc #onassignment
79K people are talking about this
Per WND, a newly surfaced video confirms photos that indicate Rep. Alexandria Ocasio-Cortez, D-N.Y., was crying in front of an empty parking lot, not suffering migrant children, during a 2018 event outside a migrant tent city that she spotlighted this week via Twitter.
Previously, photos showing the freshman congresswoman crying and covering her face with her hand suggested she was reacting to the sight of inhumane treatment of migrant children by immigration authorities.
But photos from different angles indicate she was facing an empty parking lot and police officers.
And the video posted on Twitter by Jack Posobiec, a correspondent and host for One America News Network confirms that.
Twitter user Bobby Dread noted Ocasio-Cortez was at the site visited by New York City Mayor Bill de Blasio, a migrant "tent city" in Tornillo, Texas.
While Ocasio-Cortez claims she was reacting to seeing children in "cages," it's clear she was looking at a road with armed Customs and Border Protection agents guarding a building in the background, he said.
"So, it is purely staged. Notice all her photos are at an angle among the fence & not through the fence," he wrote on Twitter. "How poignant would it have been to show migrant children trapped in the other side of the fence from Sandy Cortez? So why didn't they? There was nothing but a building & road!"
Source: theconservativeopinion
See more here: news365.stream
loading...
If you like what we are doing to inform you, you can support us here:
Thank you very much and God bless you and your family!