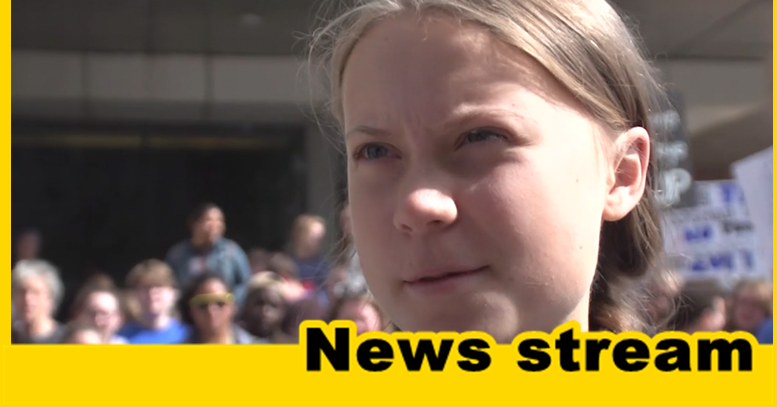 Monday, Extinction Rebellion climate activists defied a police ban on protesting in London just hours after it was introduced.
On Tuesday morning, the group's co-founder, Gail Bradbrook, was filmed climbing the entrance to the Department for Transport in Westminster.
Extinction Rebellion (XR), which has previously said it is acceptable to scare people about climate change, said other protesters had glued themselves to the building.
It followed a move by police on Monday night to crack down on the capital-wide protests. Scotland Yard ordered activists to stand down or face arrest.
Yahoo reports Greta Thunberg has told Extinction Rebellion (XR) protesters that they should consider breaking the law so they can continue their demonstrations.
Police this week imposed a section 14 order on XR, meaning any group of two or more people linked to the group's Autumn Uprising is banned.
The move, which was taken after Londoners began to grow irritated by the disruption on the streets, was swiftly condemned by human rights groups and 
London Mayor Sadiq Khan
.
Now, teenage climate change campaigner Greta has suggested XR protestors continue on regardless.
She said: "If standing up against the climate and ecological breakdown and for humanity is against the rules then the rules must be broken."
Her comments come on the day that commuters at Canning Town angrily fought back against XR protesters who had climbed on top of a tube during rush hour.
Extinction Rebellion activist: "I have just been attacked by a mob… We're trying to report the news."

London commuters have fought back against climate change protesters at Canning Town station.@XRebellionUK | #ExtinctionRebellion | https://t.co/sv3MZUm41c pic.twitter.com/Emw5AOZONy

— talkRADIO (@talkRADIO) October 17, 2019
Here's the moment angry commuters went after a cameraman who they believed was working with XR. #ExtinctionRebellion #London pic.twitter.com/g7ChxzAPRm

— Mahatir Pasha (@mahatir_pasha) October 17, 2019
WATCH: This 83-year-old @ExtinctionR activist literally glued himself to a train during rush hour in London to bring awareness to the climate crisis #ExtinctionRebellion pic.twitter.com/A8IFQfPpCl

— Bloomberg TicToc (@tictoc) October 17, 2019
#ExtinctionRebellion activists have disrupted London's Docklands Light Railway network at Shadwell station pic.twitter.com/txqJcYJpMA

— Damien Gayle (@damiengayle) October 17, 2019
This article was written by the staff of TheConservativeOpinion.com 
Source: theconservativeopinion
See more here: news365.stream
loading...
If you like what we are doing to inform you, you can support us here:
Thank you very much and God bless you and your family!