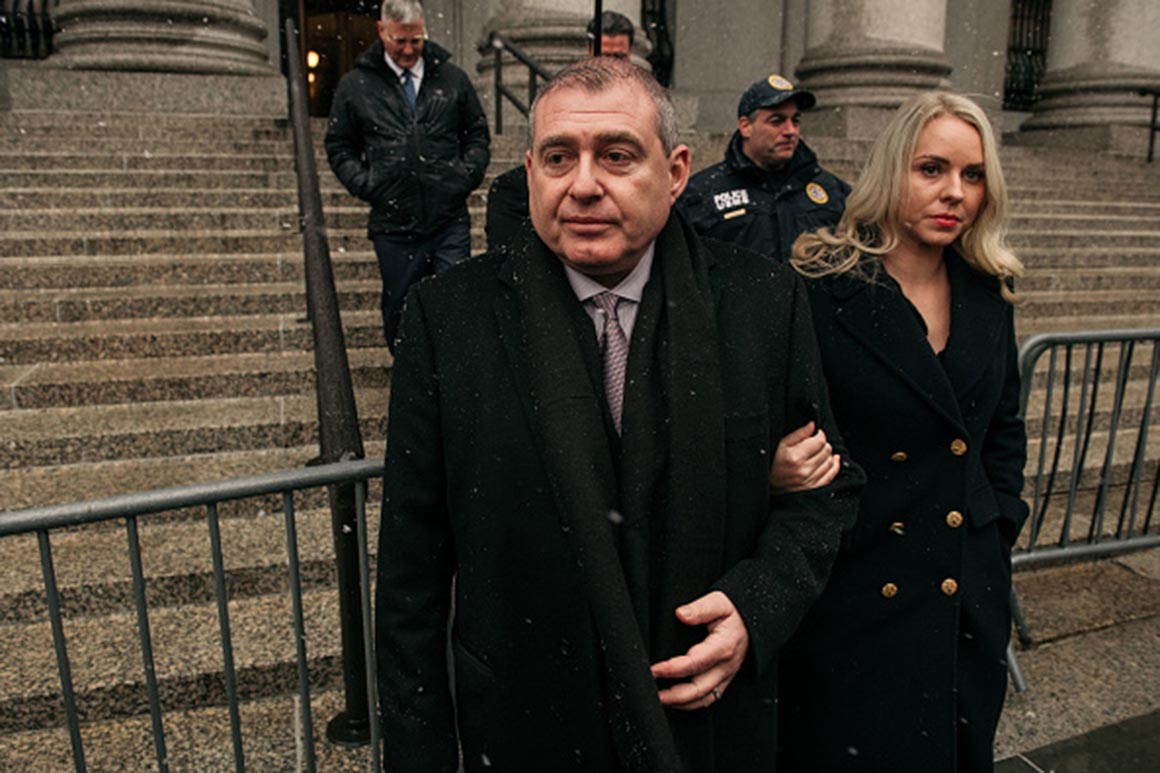 Parnas added that Pence, Barr and former national security adviser John Bolton were all aware of or involved in parts of the scheme.
Parnas is a complicated figure in the unfolding Ukraine saga. He worked closely with Giuliani as the former New York City mayor defended Trump against special counsel Robert Mueller's investigation, and he helped lead Giuliani's monthslong effort to smear and remove Yovanovitch, who stood in the way of the effort to investigate Biden and other Democrats. After Parnas was indicted, he initially resisted cooperating with the House impeachment inquiry but changed his tune shortly after Trump disavowed a relationship with him.
Some lawmakers are wary of how much to rely on his account because of the pending charges against him. But elements of his story are backed up by a trove of contemporaneous documents he provided to lawmakers in recent days — files that were initially seized by law enforcement officials following his indictment and released to him only last week.
Parnas' comments to Maddow quickly became fuel for Senate Democrats who said it amplified the need for the Senate to call witnesses and demand documents from the Trump administration during the impeachment trial.
Pushing back on previous defenses from Trump's team, Parnas said he was sent as an emissary of Trump himself to the then-new administration of the Ukrainian president, Volodymyr Zelensky, and that Giuliani vouched for him. He said he urged the administration to open an investigation into Biden's son Hunter, who sat on the board of the Ukrainian energy company Burisma, to hurt the 2020 presidential hopeful politically — not to combat corruption, as Giuliani has repeatedly claimed.
"It was all about Joe Biden, Hunter Biden," Parnas told Maddow in the interview. "It was never about corruption. It was never — it was strictly about Burisma, which included Hunter Biden and Joe Biden."
Giuliani and another of the president's attorneys, Jay Sekulow, did not immediately respond to requests for comment on Wednesday night. The White House and a lawyer for Pence also did not respond. At the end of her program, Maddow said Giuliani had reached out to deny that Parnas ever spoke on behalf of the president, calling him a "sad situation."
A Justice Department spokeswoman said Parnas' allegation that Barr was "on the team" pressing for the Biden investigation was "100% false."
The spokeswoman, Kerri Kupec, included in an email her statement from last September explaining that Barr first learned of Trump's July conversation with Ukraine's president several weeks after the call took place and that Trump hadn't spoken with Barr about anything related to having Ukraine investigate the Bidens.
"The President has not asked the Attorney General to contact Ukraine — on this or any other matter," Kupec said at the time. "The Attorney General has not communicated with Ukraine — on this or any other subject. Nor has the Attorney General discussed this matter, or anything relating to Ukraine, with Rudy Giuliani."
Parnas on Wednesday went on to say he and Trump's team used both U.S. military aid and visits by American officials to Ukraine as bargaining chips in getting the Ukrainians to open an investigation into the Bidens. Getting an American dignitary at Zelensky's inauguration was in some regards an even higher priority to the Zelensky administration than receiving aid, Parnas said: An official visit by Trump or Pence would lend the young, inexperienced leader legitimacy points in the view of his people and an aggressive Russia.
But when Zelensky's administration made it clear there would be no investigation, Parnas said, Pence immediately canceled his plans to attend the new president's inauguration.
"I remember Rudy going, 'OK, they'll see,'" Parnas told Maddow. "And basically, the next day Pence — to my awareness, Trump called up and said to make sure Pence doesn't go there."
Parnas also said Yovanovitch's ouster was entirely due to frustrations that she would interfere with plans to spark an investigation.
"That was the only motivation. There was no other motivation," he said.
House Democrats earlier Wednesday released a trove of correspondence linking Parnas with Giuliani and other Trump associates to Yovanovitch's removal. As part of the separate cache of correspondence revealed Tuesday, House Democrats revealed messages between Parnas and a Republican House candidate, Robert Hyde, in which Hyde used menacing language in describing how to deal with Yovanovitch and bragged about surveilling the ambassador.
Parnas said on Wednesday that he knew Hyde from the constantly intermingling Trump circles who partied after hours at the Trump hotel in Washington.
Parnas laughed in describing Hyde — "I don't know how to explain him. He's a weird character. He's a weird individual." — and said he never took Hyde's comments seriously.
Still, Parnas apologized for the way he treated Yovanovitch, saying the campaign to fire and discredit her — assertions that she was badmouthing Trump — was built on falsehoods.
"I don't believe it," Parnas said. "That's why I want to apologize to her, because at that point I believed it, but I don't believe it now after re-evaluating and seeing everything that transpired, looking at the documentation again."
Parnas also alleged that Nunes, the California Republican on the House Intelligence Committee, was among the same overlapping Trump circles and that he had been aware of the efforts to push Ukrainian officials for an investigation. When asked by Maddow whether he thought it was inappropriate for Nunes to be on the committee given those ties, Parnas said: "I was in shock when I was watching the hearings and when I saw Devin Nunes sitting up there."
Parnas' interview came on the same day that House Democrats delivered their articles of impeachment to the Senate for trial. Trump was impeached last month on charges of abusing power and obstructing Congress.
Parnas was indicted alongside another Giuliani associate, Igor Fruman, on charges of violating campaign finance laws by making illegal contributions to benefit Trump. A spokesman for the U.S. Attorney's Office in the Southern District of New York, which secured the indictments, declined to comment when asked earlier Wednesday about Parnas' appearing for the MSNBC interview. Parnas has pleaded not guilty to the charges and has since secured permission from the federal judge supervising his case to cooperate with House impeachment investigators.
Trump has claimed not to know Fruman and Parnas, though social media posts include images of the three of them together in 2018. When asked by Maddow about Trump's denial of knowing him, Parnas flatly responded: "He lied."
Source: politico.com
See more here: news365.stream
loading...
If you like what we are doing to inform you, you can support us here:
Thank you very much and God bless you and your family!