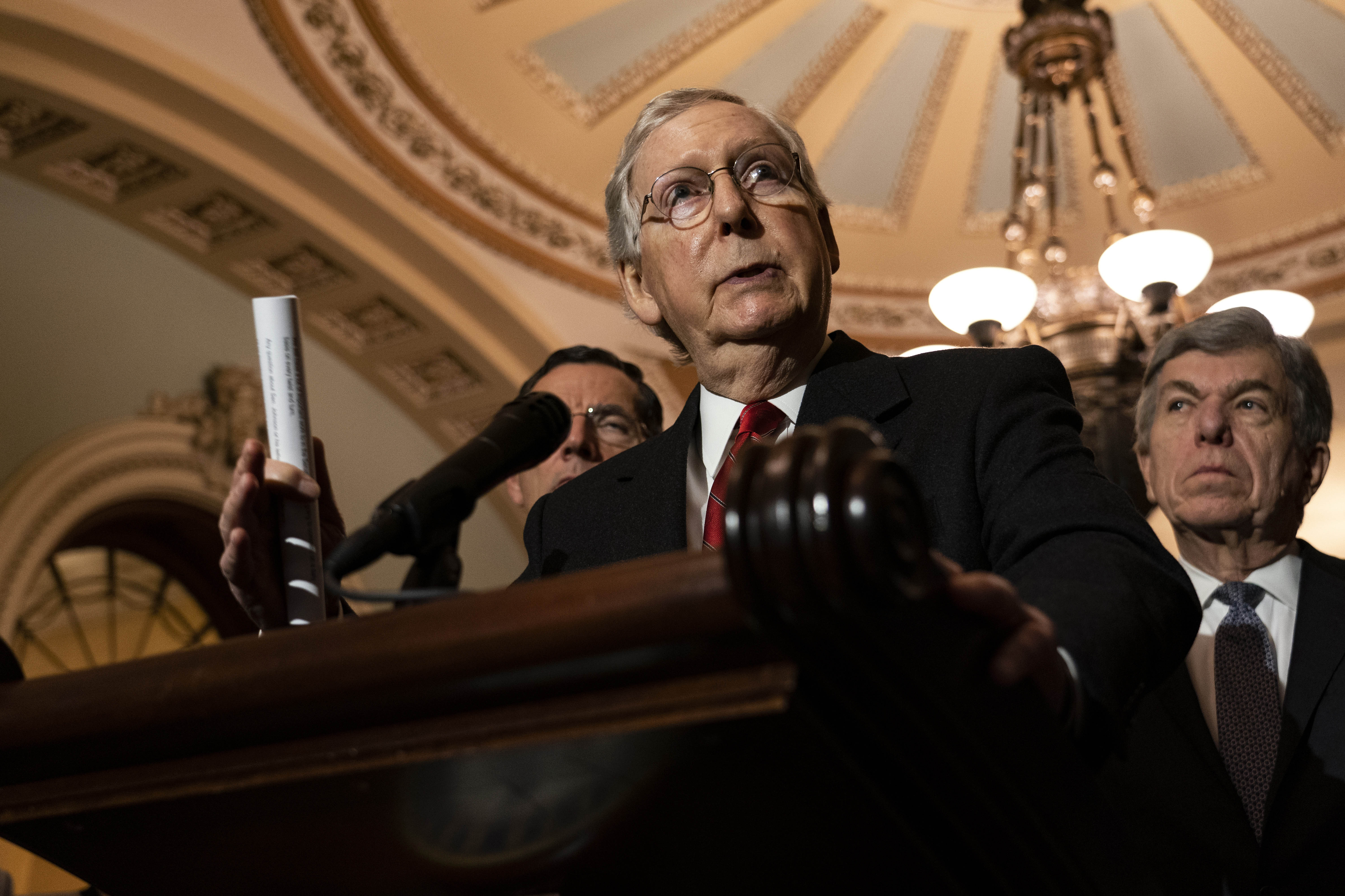 "We have the votes once the impeachment trial has begun to pass a resolution essentially the same — very similar — to the 100 to nothing vote in the Clinton trial," McConnell told reporters. "All we're doing here is saying we're going to get started in exactly the same way that 100 senators agreed to 20 years ago."
The GOP leader added that the Senate will "get around to the discussion of witnesses," but not before the Senate trial begins.
Schumer reiterated his pledge to force votes on witnesses and documents and offered his own warning to Senate Republicans Tuesday afternoon: "You can run but you can't hide."
"Large numbers of Republicans have refused to say whether they are for witnesses and documents and that's why Leader McConnell came up with this kick-the-can down the road theory," Schumer said. "McConnell will never go for it but will four of his Republican colleagues?"
The move is the latest exercise of blunt political power by McConnell, who since becoming majority leader has found myriad ways to sideline Democrats and move his agenda with narrow majorities. And the partisan impeachment road isn't without risk: Republicans are doing little to distance themselves from the president even on process questions, let alone the ultimate decision of whether to remove Trump from office.
Yet Republicans say Democrats offered them little alternative: Most scoffed at the idea that Schumer could determine what evidence is heard in the Senate. And McConnell's strategy has key backing from the handful of Republican swing votes heading into the trial, though many senators, like Lisa Murkowski of Alaska, had hoped Schumer and McConnell could come to an agreement.
"We've gotten so snarled up with debate over witnesses that the two leaders haven't been able to come to terms on this first phase so it looks like we'll go forward with a Republican [package]," said Murkowski, who said she would support McConnell's proposal.
"I'd like to hear from John Bolton and other witnesses to provide information. That process will accommodate that. The Clinton process allows for a vote on witnesses to occur after opening arguments," said Utah Sen. Mitt Romney.
Speaker Nancy Pelosi has withheld the articles of impeachment since the House voted in December to charge Trump with abuse of power and obstruction of Congress, in part to push Republicans to agree to fair rules for the trial. The GOP used the delay from the House to get ready to start the clock on the impeachment trial as soon as possible.
"What we're aspiring to do is to get this process moving forward and indicate to the Democrats that as soon as they send those articles over here, we're ready to go. Quit stalling," said Senate Majority Whip John Thune (R-S.D.).
Following McConnell's announcement, the Senate is in a position to quickly begin the trial — even if it requires steamrolling the 47-member minority. Democrats immediately criticized McConnell for moving forward without them and without making any promise to hear from witnesses.
"That's not how you run a country. That's not how you run the United States Senate," said Sen. Jon Tester (D-Mont.).
"That's regrettable. If I thought McConnell's offer to bring witnesses… was in good faith, I could probably vote to proceed with impeachment inquiry. I don't believe that," said Sen. Chris Murphy (D-Conn.). "I don't think he's going to bring witnesses. I think this is all a whitewash."
McConnell and Schumer have been unable to reach a deal on how to run the impeachment trial. And their efforts at negotiations were anemic, boiling down to a 20-minute conversation on December that got them no closer to a bipartisan result.
That impasse squashes hopes of repeating the 100-0 vote that kicked off Clinton's trial. Those circumstances were in some ways different: The Senate had much more information about Clinton's impeachment inquiry than it has on Trump given this administration's all-out effort to block witness testimony and documents from the House.
But McConnell needs only a bare majority to ignore Democrats' demands to subpoena witnesses and documents and instead kick that decision until later in the trial.
Schumer has sought to put pressure on McConnell's vulnerable senators by raising the question of witnesses and pointing to new emails that have been released showing the president's involvement in the Ukraine scandal. Trump's former national security adviser John Bolton said Monday he would testify before the Senate if subpoenaed. But moderate Republicans like Murkowski and Susan Collins of Maine said they are comfortable with following the Clinton model and deciding whether to call witnesses later.
Schumer and Democrats will still have opportunities to try to shape the trial. They can force votes on their preferred trial structure, which they believe will put vulnerable Republicans in a bind. And they could in theory succeed if more senators like Romney decide they need to hear new evidence.
"I know that I'll want to hear from witnesses," Romney said.
Pelosi could deliver the articles of impeachment as soon as this week. While she did not secure any concessions from McConnell — who said Democrats were grasping onto "mythical leverage" — the party did briefly win new scrutiny on GOP vows to coordinate closely with the White House.
Now after the long holiday break and still no additional response from Pelosi, Republicans are eager to get moving.
The House "wasn't pushing for the witnesses like they should. So why the heck did they expect we're going to jump all over it now?" said Sen. Joni Ernst (R-Iowa), who is up for reelection. Pelosi is playing a political game right now and she's losing."
Source: politico.com
See more here: news365.stream