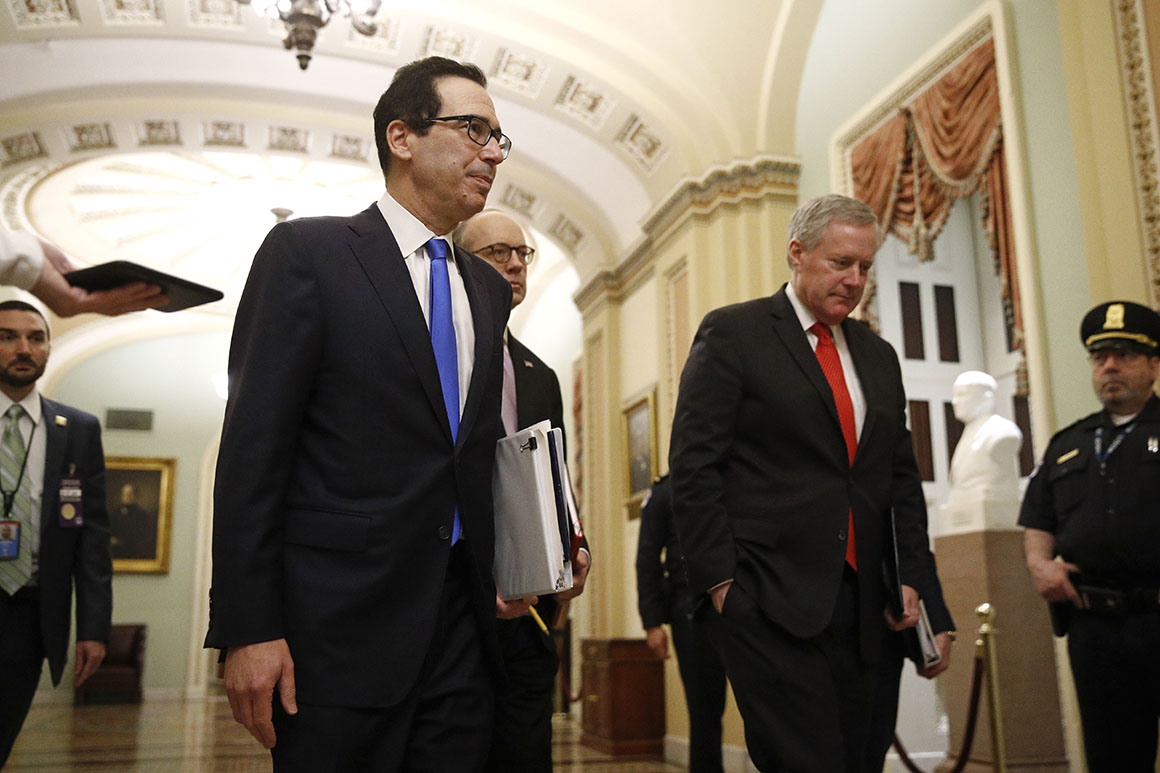 "Pass the damn bill. Enough already!" tweeted Sen. Lindsey Graham (R-S.C.), one of Trump's top allies.
After Schumer insisted that negotiators were "on the 2-yard line" Tuesday afternoon, he and his counterparts spent several hours finalizing the language and hammering out the remaining sticking points, which included everything from the structure of loans to the airline industry to details about an enhanced fund for state and local governments.
Senate Democrats had been pushing for strict oversight of a $500 billion fund designed to lend money to corporations that have been hit hard by the coronavirus pandemic. Democrats had criticized the initial proposal as a "slush fund" that provided no mechanisms for accountability and allowed the Trump administration to withhold details about which companies received such loans.
One of the concessions Democrats said they won in the negotiations was an agreement that the pot of money will be overseen by an inspector general and a congressional panel. They also secured $150 billion for a state and local fund, $130 billion for hospitals, and beefed up unemployment insurance that will give Americans four months-worth of their income if they are furloughed or lose their job due to the coronavirus crisis, according to Schumer.
The version of the massive rescue package that was initially unveiled by the GOP provides direct payments to qualified individuals and families with checks of up to $1,200 and $2,400, based on income, and allocates $367 billion in federally guaranteed loans for small businesses.
The final product, according to McConnell, "will help secure our economic foundations and stabilize key national industries to prevent as many layoffs as possible."
On the other side of the Capitol, Speaker Nancy Pelosi — who is working from Washington while the vast majority of House members remain in their districts for recess — said she hopes to pass the Senate bill via unanimous consent of the chamber. Such an agreement would not only allow swift passage, but would also keep worried lawmakers away from the Capitol, where the virus has started spreading.
But Democratic and Republican leaders in the House don't yet know whether it would be possible to muscle through a sweeping $2 trillion bill without a single objection from any of the chamber's 435 lawmakers. In fact, the House GOP's whip team held a conference call Tuesday evening where they acknowledged that there's a strong possibility that a member will object to a unanimous consent agreement, according to a whip team source. But passing the rescue package by voice vote is another viable option and being discussed with the GOP conference, the source added.
Privately, many lawmakers say they don't want to return to the House, which would risk further spreading the virus either while traveling to Washington or within the Capitol itself. Three members of Congress, including two House lawmakers, have tested positive for the coronavirus, as well as several staffers.
It would be nearly unprecedented, however, for the House to unanimously approve a package that large, with massive implications for nearly every sector of the economy. Several lawmakers, including freshman firebrand Rep. Alexandria Ocasio-Cortez (D-N.Y.), have telegraphed at least some concerns with the latest version of the Senate talks.
House Majority Leader Steny Hoyer (D-Md.) told Democrats on a conference call Tuesday afternoon that he would prefer to vote by unanimous consent, but still doesn't have timing on when a vote would be, according to people familiar with the discussions on the call.
Source: politico.com
See more here: news365.stream
loading...
If you like what we are doing to inform you, you can support us here:
Thank you very much and God bless you and your family!