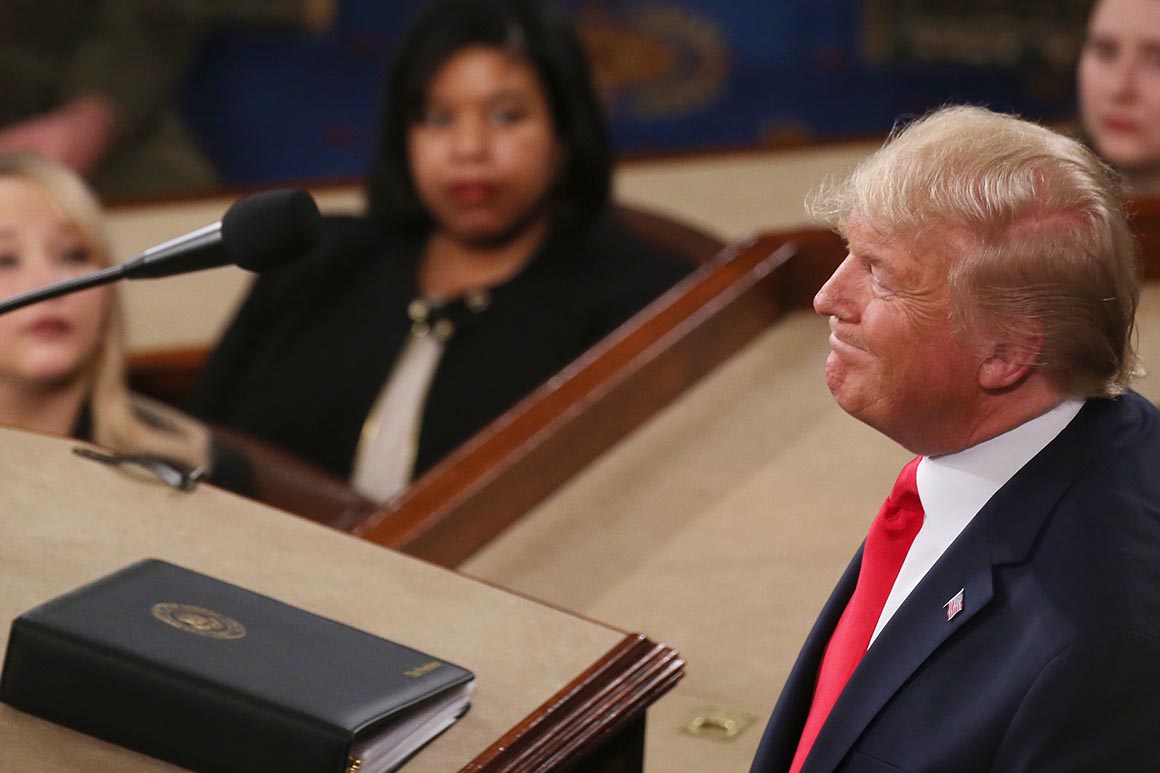 "There are those who want to take away your health care, take away your doctor, and abolish private insurance entirely," he said. "To those watching at home tonight, I want you to know we will never let socialism destroy American health care."
He criticized the 132 lawmakers who he blamed for endorsing legislation to impose "a socialist takeover of our health care system, wiping out the health insurance plans of 180 million very happy Americans."
Trump mostly spoke about his achievements in his first three years that merit his reelection — not what he wanted to do this year or in a second term.
"Any move he makes now is to advance his reelection for November," presidential historian Douglas Brinkley said. "Anything Trump does will have electoral college motivations."
Trump never explicitly mentioned his reelection campaign — even though Democrats began choosing their nominee with the botched Iowa caucuses a day earlier — but he bragged and boasted about domestic and international issues alike: reforming the criminal justice system; an increase in military spending; a record number of conservative judges appointed; paid family leave for federal employees; killing terrorists, including Iranian military leader Qassem Soleimani and Islamic State leader Abu Bakr al-Baghdadi.
He also touted policies that weren't successful: ending America's "endless wars" even though troops remain in Afghanistan and Iraq, and pressuring the regime in Venezuela, even though Nicolas Maduro remains in power. Venezuelan opposition leader Juan Guaido, who Trump calls the real president of the country, sitting in the first lady's box, earned a standing ovation when he was introduced.
Trump's invited guests represented some of those issues, including Kelli Hake of Stillwater, Okla., whose husband was killed in Iraq by a roadside bomb that Soleimani supplied, according to the White House.
For the third year in a row, Trump talked about immigration, including two longtime goals that have largely gone unfulfilled: building a wall along the southern border with Mexico and cutting off federal money to so-called sanctuary cities, saying illegal crossings are down 75 percent since May, dropping eight months in a row.
"As the wall rapidly goes up, drug seizures rise and the border crossings are going down, and going down very rapidly," he said.
Trump made cracking down on immigration the centerpiece of his 2016 campaign, though he has been frustrated by his administration's failure to fulfill some of his pledges, leading to multiple shakeups at the Homeland Security department.
He also mentioned a long-delayed immigration proposal that would admit more high-skilled, well-educated immigrants, rather than ones who enter the U.S. based on family ties or the low rate of immigration from their home country.
Sarah Ferris contributed to this report.
Source: politico.com
See more here: news365.stream