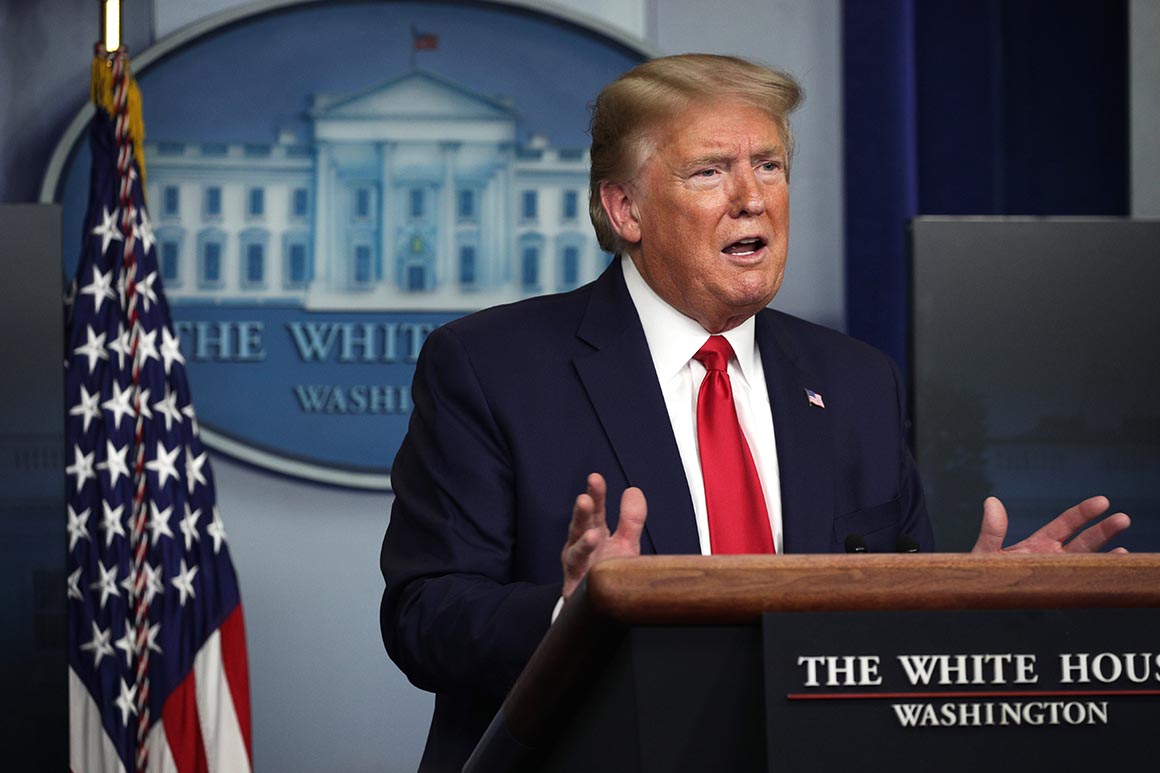 Whatever order Trump issues will have significant political ramifications. Cutting off all immigration would bolster Trump's standing with his hard-line conservative base, but anger the business community, which wants Trump to ease restrictions on temporary worker visas. Conversely, if Trump chooses to exempt any temporary workers from his immigration ban, he'll bolster his standing with the business community but risk creating a backlash among his more conservative base.
Trump kicked off speculation about his intentions Monday with a late-night tweet proclaiming: "In light of the attack from the Invisible Enemy, as well as the need to protect the jobs of our GREAT American Citizens, I will be signing an Executive Order to temporarily suspend immigration into the United States!"
The tweet did not indicate what specific action Trump would take: He could simply suspend entries for a period of time, or cancel a specific program for the year. The White House did not offer clarity when it issued its first official statement on the issue Tuesday morning.
"President Trump is committed to protecting the health and economic well-being of American citizens as we face unprecedented times," said White House press secretary Kayleigh McEnany. "As President Trump has said, 'Decades of record immigration have produced lower wages and higher unemployment for our citizens, especially for African-American and Latino workers.' At a time when Americans are looking to get back to work, action is necessary."
When asked what prompted the decision, a top DHS official responded: "22 million unemployed Americans and counting due to Covid-19."
Since the pandemic began, international travel has come to a virtual standstill as countries across the globe have imposed travel restrictions to prevent the spread of the coronavirus.
In the U.S., the Trump administration has restricted foreign visitors from China, Europe, Canada and Mexico, and has paused processing for immigrants trying to come into the U.S. on nonworker visas because of office closures. Trump has boasted that such moves demonstrated his administration's serious and early response to the growing outbreak. Public health experts say the moves likely bought the U.S. some time but that the administration did not use that time to properly prepare for a domestic surge in cases.
Trump has faced calls from conservative groups to go further than the slate of travel restrictions. They have been urging the Trump administration to halt all foreign workers from entering the U.S., citing the millions of Americans who have been put out of work amid economic shutdowns intended to help slow the coronavirus outbreak.
But for weeks, his administration has allowed the foreign workers to enter.
Specifically, the U.S. eased requirements for immigrants to get certain jobs, such as farmworkers, landscapers and crab pickers, aware that certain industries, including those that fill grocery store shelves, could be hurt during the pandemic if they couldn't hire foreign employees. It has also begun easing the process for companies looking to hire foreign workers, altering some paperwork requirements, including allowing electronic signatures and waiving the physical inspection of documents.
In early April, under pressure from immigration activists, the administration did backtrack on a plan to pause the approval of 35,000 more seasonal worker visas, pending further review.
Former Attorney General Jeff Sessions, who is running for a Senate seat in Alabama, pushed for a complete moratorium on immigration to the U.S. on Tucker Carlson's show on Fox News last week. Carlson has been in close contact with Trump during the course of this virus and was one of the primary outside allies pushing him to do the China travel ban back in early January.
Immediately after the president's tweet on Monday night, hard-line immigration groups cheered the decision.
"The president's comments reflect a sensitivity to a primary purpose of all immigration laws of every country, and that is to protect a nation's vulnerable workers," said Roy Beck, president of NumbersUSA, which supports restrictions. "With tens of millions of Americans who want to work full time not able to, most immigration makes no sense today, and to allow it to continue at its current level at this time would show a callous disregard for those enduring deep economic suffering."
The excitement could change if the White House confirms exemptions for foreign worker visas in its upcoming order.
"One question remains," said RJ Hauman, government relations director at the Federation for American Immigration Reform, which favors immigration restrictions. "Are there any caveats like guest workers being excluded from the order? We'll see."
Source: politico.com
See more here: news365.stream