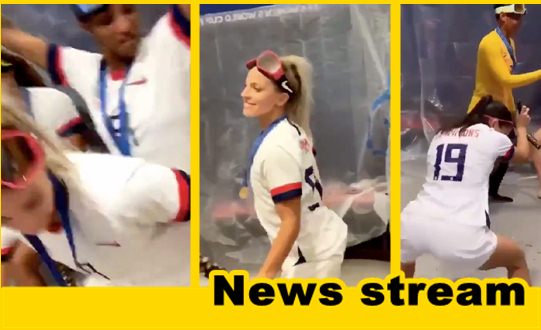 On Sunday, the U.S. Women's soccer team won the World Cup for a fourth time.
Megan Rapinoe celebrated by boasting on Twitter "We already discussed this. Science is science. Gays rule."
Told ya. pic.twitter.com/tWbbpyUhZY

— U.S. Soccer WNT (@USWNT) July 7, 2019
NPR reported that the U.S. women's soccer team is still the world's best after dominating the Netherlands in the Women's World Cup final and winning 2-0. Throughout the tournament, the U.S. brushed aside criticism, complaints of arrogance and calls for the team to tone down their goal celebrations.
After they won, however, the team displayed what some call "unsportsmanlike" conduct when they twerked and danced on video while her teammate bragged "she dirty!"
Watch the videos:
Alex Morgan is celebrating all over the rest of the world
26.3K people are talking about this
Becky on her Snapchat story off of two vodka lemonades
1,410 people are talking about this
In addition to the vulgar dancing, the team's midfielder Allie Long, dropped the U.S. flag on the ground.
Fox News reported that Just moments after the U.S. women's soccer team defeated the Netherlands on Sunday to secure their second straight World Cup title, Allie Long came under fire for briefly dropping the American flag during her celebration with Golden Boot winner and outspoken Trump critic Megan Rapinoe.
Watch the video:
@ALLIE_LONG I understand the excitement of the moment, but please NEVER disrespect the flag by dropping it on the ground!
1,649 people are talking about this
loading...
If you like what we are doing to inform you, you can support us here:
Thank you very much and God bless you and your family!